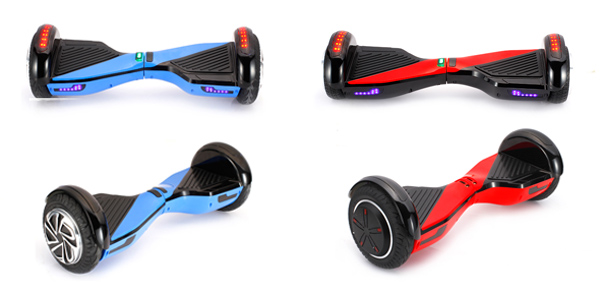 I8

8

Inch

Electric

scooter

Parameters
Range

per

charge(km)

20
Max

Speed

(km/h)
10
Max

climbing

angle

15°
Max

Load

(kg)
120
Net

Weight

(kg)

11.3
Charging

Power
90-240V
Charging

Temperature
0-60
Motor

Type
Hub

Motor
Motor

Power
36V350W
Battery

Lithium

battery
Battery

Capacity
4.3AH
Charge

Time
3-5H
Charging

Protection

Yes
Tire

Size
8inch
Tread

Width
230mm
Chassis

Height
35mm
Board

Size
650*200*210mm
Carton

Size

680*295*280mm
Electric balance vehicle using method
The overall focus of driver and vehicle longitudinal hypothesis we to stand in the car as a reference line. When this axis is tilted forward, the body of the built-in electric motor will produce the power of the front, on the one hand, the balance of the car and the car to the front of the torque, on the one hand, the acceleration of the vehicle. On the contrary, when the gyro detects that the driver's center of gravity falls back, it also produces a backward force to achieve balance. Therefore, as long as the driver to change the angle of his body forward or backward, electric balance car will be tilted forward or backward direction, and the speed is proportional to the degree of tilt of the driver's body.
The balance of electric car steering can be achieved by two different ways, one of which is a driver in the vehicle will continue to move forward and backward your body weight to tilt, using its own weight generated by the vertical and longitudinal axis of the body component, as when turning to the heart and achieve the purpose of steering. In addition, the handle part of driver can also reverse the balance of electric cars, the vehicle two wheel rotational speed difference is produced, for example, when the handle to the left and right wheel speed than the revolver quickly, turn left to effect. When necessary, the electric balance car can even make a round forward and backward movement, to achieve the effect of in situ steering, greatly enhance the mobility of such vehicles.
With this high degree of mobility, made by adding glass fiber materials, wheels, and its pedal area actually not much bigger than the human feet, the theory on the balance of electric cars can reach most parts of human beings can walk, even including the sidewalk or roadside will not drop step too much.
In principle, as long as the electric car balance right turn on the power and can keep enough electricity to run the car, people do not have to worry about a dumping may drop, which generally need to rely on the driver himself balance scooter transport greatly different.
Release time:2016-12-28 0:00:00
Related News
Related Products