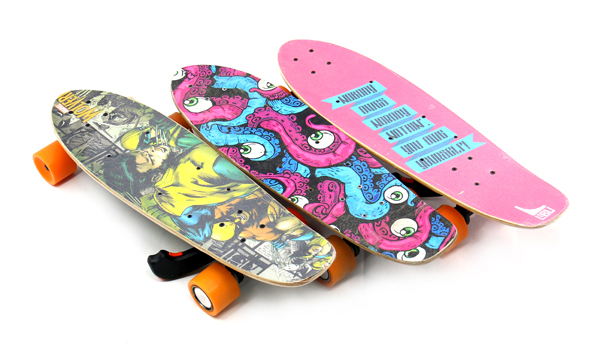 Single

motor

electric

skateboard

Parameters

Product

Weight
4kg

around
Product

Size
69*19.5*11.5cm
Max

Load
100kg
Motor

Power
100W
Motor

Rotation

Speed
2500

round

rpm
Max

Mileage
20

km/10

km
Max

Speed
18

km/h
Climbing

capacity
18

degrees
Working

temperature
Forty

degrees

below

zero

to

seventy

degree

above

freezing

(-40-70)
Battery
4.4Ah/24V/106W

18650

lithium

battery

2Ah/36V/350W

lithium

battery
Charging

time
2-3hours
Charging

temperature
0-45
Charger
90-240V

50-60HZ
Overcharge

protection

Yes
Body

material
wood+plastic
Body

height
11.5cm
Chassis

height
6cm
Tire

type
PU

solid

tire
Tire

size
8cm
Package

size
70*24*17cm
Net

weight
4kg

around
Package

content
electric

skateboard,

charger,remote

control(2.4G

frequency)
electric skateboard is a skateboard with electric drive system and gravity induction system. Electric skateboard first appeared in 1990s, but they are always asking users at the same time collocation of additional components from the handheld accelerator sensor array based on Microsoft Kinect, people always can't find the traditional surface feeling.
With the rapid progress of the technology and development, until the early twenty-first Century, was born in the true sense of the electric skateboard, is becoming one of the disruptive vehicles. Slide technique
In the foot, dangerous in the body. The friends from the playing board board, more not to fall. Especially for beginners, the board is still very strange, it is difficult to control the center of gravity, a little attention will hurt others in, the following points need special attention:
If you are a beginner, on board before, please take a look at the basic movements. The video data were to have a heart in the bottom, in the end what I focus, foot position or on the board. Here, such as a fly without head, not to hurt the strange fall.
Two beginner generally fall is the center of gravity is not stable, if the center of gravity when gliding, simply with the center of gravity, the foot pressure plate or the end of the plate, so that the end of the board or the end of the plate to the ground to stop
Three if the technical movement such as flight and landing, and the fall has been difficult to avoid, as far as possible if body body neck tension, extending upwards from the ground. Remember the physical formula, P=F/S, when the body falls a moment that has been ground contact area is large, the P will bear less well, because you must G. So, remember to fall when the hand do not use body ah what to what position to support and back then a loud snap may fracture.
Four proposed to play in it, with the best protective gear. Especially beginners, don't bother.
Release time:2016-12-27 0:00:00
Related News
Related Products