<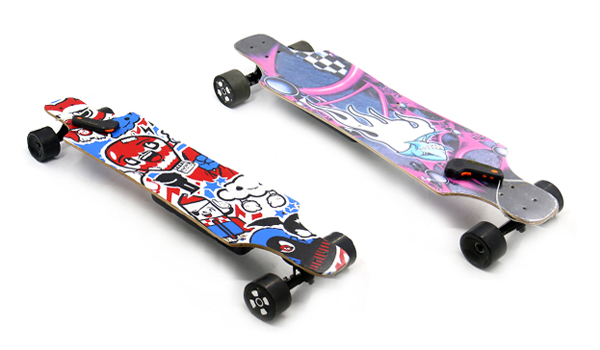 Dual

motors

electric

skateboard

Parameters

Product

Weight
7.8kg

around
Product

Size
102*25*12.5cm
Max

Load
100kg
Motor

Power
200W*2
Motor

Rotation

Speed
2500

round

rpm
Max

Mileage
20

km/10

km
Max

Speed
35

km/h
Climbing

capacity
18

degrees
Working

temperature
Forty

degrees

below

zero

to

seventy

degree

above

freezing

(-40-70)
Battery
4.4Ah/24V/106W

18650

lithium

battery

2Ah/36V/350W

lithium

battery
Charging

time
3-5

hours
Charging

temperature
0-45
Charger
90-240V

50-60HZ
Overcharge

protection

Yes
Body

material
wood+plastic
Body

height
12.5cm
Chassis

height
6cm
Tire

type
PU

solid

tire
Tire

size
9cm
Package

size
105*31*14cm
Net

weight
8kg

around
Package

content
electric

skateboard,

charger,remote

control(2.4G

frequency)
Skateboard project is the earliest history of extreme sports, extreme sports are a number of projects extending from skateboarding to. From the end of the 60s to the early of the 1950s by the evolution of surfing skateboarding, has now become the world's most cool campaign. Skateboarding techniques include: The AerialL (on the slider), The Invert (on the U platform), The Ollie (take off the board), these techniques can be said to be the most important addition to the flip plate movements. Two important international organizations in the world: International skateboard skateboard Association (full name: INTERNATIONAL ASSOCIATION OF SKATEBOARD COMPANIES, referred to as: IASC) and the world cup skateboarding (full name: WORLD CUP SKATEBOARDING: WCS).
Security matters
1 adjust the wheel to make it run smoothly before use.
2 according to the use of their own use of locking nut to adjust the flexibility of cushion.
3 regularly bearing oiling, increase bearing lubrication, reduce the sliding resistance.
4 beginners with the help of friends and relatives, in the slope angle of the small slope of the slide, with the improvement of the technical level, gradually change the different slope.
5 do not slide on wet or rough road, when you want to jump off the skateboard, to see if you can hit people or other objects around.
6 if you need to change parts, and its original parts should be replaced with the same specifications.
Release time:2016-12-27 0:00:00
Related News
Related Products