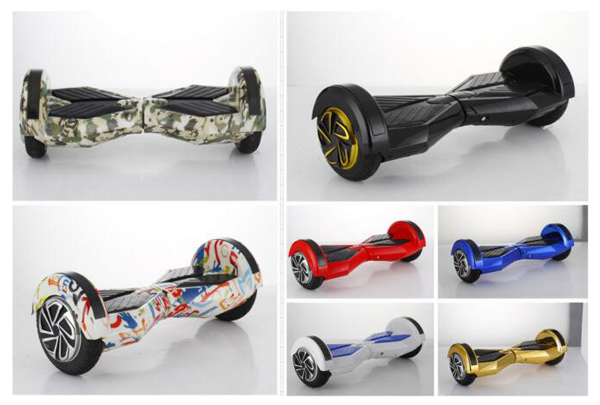 I5

8

Inch

Electric

scooter

Parameters
Range

per

charge(km)

20
Max

Speed

(km/h)
10
Max

climbing

angle

15°
Max

Load

(kg)
120
Net

Weight

(kg)

11.3
Charging

Power
90-240V
Charging

Temperature
0-60
Motor

Type
Hub

Motor
Motor

Power
36V350W
Battery

Lithium

battery
Battery

Capacity
4.3AH
Charge

Time
3-5H
Charging

Protection

Yes
Tire

Size
8inch
Tread

Width
230mm
Chassis

Height
35mm
Board

Size
600*230*200mm
Carton

Size

680*295*280mm
Certificate

UL2272
Electric self balancing vehicle maintenance knowledge
Do not remove the controller speed limit
Electric self balancing car charger has a personalized demand, in the absence of a time when you do not want to replace the charger. If continued long trip mileage requirements, we must charge to different places and with a number of chargers, the day complement chargers to add a separate charger, and the original use of the charger at night. Remove the controller speed limit, although it can improve the speed of some cars, in addition to reducing the safety of the car, but also to reduce the battery life.
Two, protect the good charger
General instructions on the use of the above protection on the charger. Many users do not see the specification of the habit, often in addition to the problem after the thought of looking for instructions to see, often too late, so it is necessary to read the instructions. In order to reduce the cost, now electric self balance car charger basically did not do the design, high vibration resistance so that the electric charger is generally not on the electric bicycle and bicycle in the trunk. Under special circumstances, it is necessary to move, but also to the charger with foam packaging, to prevent the occurrence of vibration bumps. After a lot of chargers after vibration, the internal potentiometer will drift, making the entire parameter drift, resulting in abnormal charging state. Also need to pay attention to is to keep the charger when charging ventilation, otherwise it will not only affect the life of the charger, but also may affect the state of the thermal drift. This will damage the battery formation. Therefore, the protection of the charger is also very important.
Three, timely charging
Electric self balancing car battery discharge after the start of the vulcanization process, in 12 hours, there was a significant sulfide. Timely charge, can remove sulfide is not serious, if not timely charge, the crystallization of sulphide accumulation and will gradually form a large crystal crystal, the average of these bulky chargers is incapable of action, will gradually decline in the formation of the battery capacity, shorten the service life of the battery. So, in addition to charge every day, but also pay attention to the use of the finished as soon as possible to charge, as much as possible to make the battery power in full state.
Release time:2016-12-28 0:00:00
Related News
Related Products