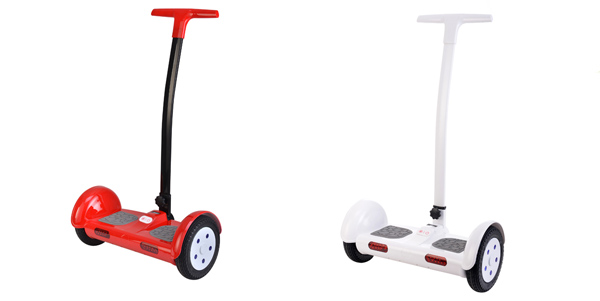 TT

hoverboard
parameter
Range

per

charge
20km
Max

Speed
30km/h
Max

climbing

angle
50°
Max

Load
120kg
Net

Weight
15kg
Charging

Temperature
0°-60°
Motor

Type
Hub

Motor
Motor

power
36v350w
Battery
Lithium

battery
bBattery

capacity
4.3AH
Charging

time
3-5h
Charging

protection
Yes
Tire

Size

10inch
Ground

clearance
30mm
Platform

height
1050mm
Dimensions
540*230*1050mm
Carton

size
755*380*385mm
The predecessor of electric scooter
At least 100 years ago, has been in the original scooter industrial city Handmade. A common Handmade scooter is installed on a board under the skate wheels, then put the handle on the pivot simple tilt of the body or connected by second plates to control the direction, made of wood, 3-4 inches (75-100 mm) of the wheel and the steel ball bearing. Another advantage of this structure is the noise, like a "real" car. Another structure is to be divided into two parts of a metal roller skates, the middle of the wooden beam connection.
Maintain:
The daily life and the users of lead-acid battery used for electric scooter maintenance has a great relationship, in general should pay attention to the following points:
1, develop with the use of the habit of filling, so that the battery is often sufficient to maintain the state of electricity.
2, according to the itinerary decided to charge the length of time, control in 4 - 12 hours, not long charge.
3, the battery is placed for a long time, the need for adequate electricity, once a month to supplement.
4, at the start, when the wind and uphill with pedals to help.
5, when charging with matching charger, placed in a cool ventilated place, avoid high temperature and humidity, do not let the water into the charger to prevent electric shock accident.
Release time:2016-12-28 0:00:00
Related News
Related Products